Miraflores
at Los Gallardos Leisure.  As one of the area's most popular dining destinations, Miraflores caters for all appetites and events!
From snack to meals
A spacious and luxurious, air conditioned Bar and Restaurant, serving international and Spanish food, we are one of the largest Restaurants in the area.
Established in 1991, we provide a range of menus ranging from poolside snacks to bar or restaurant meals. A children's menu is always available, along with high chairs and outside we have a children's playarea and beer garden.
Check out our daily specials!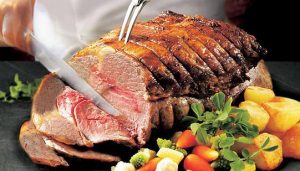 Sunday Carvery
Carvery now being served from 12:30 untl 4pm!  The very best Sunday Carvery around then a relax with free music from 14:30.  Our fantastic all you can eat Sunday Carvery boasts roast beef, roast pork and roast honey ham with a full selection of vegetables, Yorkshire puddings, oven roasted potatoes, mash, rich meat gravy, crackers and a smile…. all from €8,50 euros per person!  You can also  Pre-book roast shank of lamb for €11 or fillet of salmon for €9!  Plus a delicious selection of home-made pudding and starters from just €4.00
Our great Sunday Carvery is served every Sunday from 12:30-4pm…  Reservations are available on 650418954 (highly recommended!)
During March/April, we are offering our Sunday carvery every Sunday as normal with live music from 14:30 outside on the terrace (if weather is inclement, the music moves indoors from 16:00).
Regular events
Miraflores offers regular events and is a strong centre to the community of the complex.
See our 'What's On' via Facebook at the bottom of this for upcoming events.
Saturday night music is a regular occurrence, along with live music during our Sunday carvery.
Weekdays sees a range of events, from our Wednesday night fun darts, dominoes and pool knockout night through to bingo, quizzes and more.
From our new kitchens our chefs strive to bring you a wide range of food, ranging from "quick 'n' easy" snacks or menu del dias to a full range a la carte. Indeed, Miraflores has built up a wide reputation in the local area for constant, delicious and quick food.
We cater for you, our clients, and thus you can be sure that what ever else happens, you can always be assured of a good meal or a relaxing drink at the end of the day! Either sitting by the poolside terrace, in the secluded restaurant or at the popular bar, there's always something going on at Miraflores.
The restaurant's new design allows you to choose; sit on the pool side terrace during the day, and enjoy our Snack or Menú del día menus and a dip, or come during the evening, either sitting in the intimate tables, or with a group. You choose!
Private catering and charity events
The Restaurant is available for private parties or special meals e.g. Paella, can be ordered. We are able to cater for large groups of up to 230 people in our main ballroom at very competitive prices. For groups of over 10 people we can organise a special buffet or celebration with prices starting from as little as €7.00 per person.
We can also search through our list of contacts to provide live music or entertainment for your special event, helping it to go with a bang.
For information on any activity in the bar or bookings for the restaurant, speak to Benjamin on the number below. Or, fill out our contacts page with a description of what you want, and we'll get back to you as soon as possible!
Swimming pool
Our large swimming pool is salt water – meaning no nasty chemicals to swim through and a much nicer, hygienic swim.
The pool is open to non-residents for a €5 fee per person – this can be offset against food purchased, so diners go free!