Check out Nigel Bradders YouTube channel!
Since Nigel moved to Spain in May 2014 he discovered that there was an amazing music scene in Mojacar and the surrounding areas, that he didn't know about before.
Nigel gets a lot of pleasure in producing his videos, to a high standard, forever learning new techniques and trying something new.  Nigel's videos have progressed over time to now include multi camera angles and detailed editing to product great looking videos.
Producing videos to this degree of detail with excellent sound together with up to 4 camera angles can be very time consuming getting each camera in sync not to mention the detailed editing.
He can offer high quality detailed promo videos and concert recordings.  Nigel can produce to your requirements short promotional videos that can advertise singers, bands and business venues. Other services include recording your concert performances, theatrical plays and classical performances.
Nigel is always interested in a challenge.
Please click on the image below to visit Nigel´s YouTube channel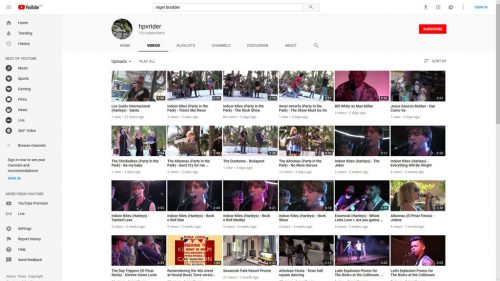 Mojacarbands.net